Why You Should Consider Cast Irons
KZG believes that quality comes first. This is why we have so many dealers around the world fitting people with KZG golf clubs. Our cast irons are no different.
By offering our dealers a great line of cast irons we can ensure that the customer can receive a proper fitting. We have a very nice range of different types of irons for varying abilities of golfer and the XRS wedge is one of the most popular wedges in our line.
Our Cast irons are made from a very soft proprietary (top secret) stainless which makes our Cast irons very bendable with a great soft feeling. Most golfers cannot tell the difference in feel between a forged head and a cast head which makes the decision between the two much easier for the golfer on a limited budget.
Yes, cast irons are easier to make, however, the options and shapes that you can make the heads are almost unlimited. This is why the higher handicap golfer usually moves into a cast head. The can be made much more forgiving and create much higher launch angles.
The HPS iron is the ultimate in forgiveness. With a wide round sole and large clubface, the golfer will set up to this club with confidence knowing that they can hit the ball into the air again and not get overly punished for an off center hit.
The HB 516 is the cavity back iron that looks like a blade. Or is it the blade that plays like a cavity back? For the mid to high handicap golfer who prefers a more traditional looking iron this is the golf club for them. Providing great feedback along with tremendous forgiveness the HB 516 is a very popular iron.
Next is our XCB. Great golf club for the intermediate to high handicap player but with the more modern look some lower handicap players may also migrate toward this club. Very forgiving and very long this is one of our most popular irons.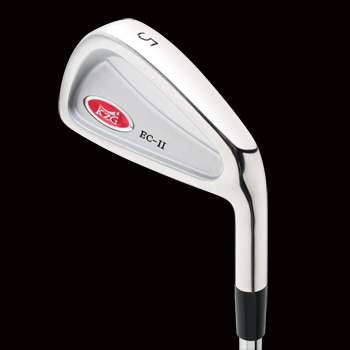 The EC-II irons are a great iron for the better player on a budget. They were designed after the original Evolution which was our most popular iron to date. With the muscle in the cavity changing by 10% from one club to the next the longer irons are easier to hit high while the shorter irons will have a more penetrating ball flight.
Our XRS wedge is absolutely fantastic and if we didn't tell people it was a cast head they would believe it was forged. It comes in a wide range of lofts and bounce options so that the KZG dealer can properly gap fit his customers in their scoring game clubs.
Here at KZG we are always looking for ways to improve our line so that you can receive the best possible fitting, and as such we have a couple more irons in the fire (excuse the pun). So keep your eyes on our website so see the next in our line of cast irons.